Dysphagia refers to difficulty swallowing. Dysphagia can be subdivided into: oropharyngeal dysphagia and esophageal dysphagia.
Oropharyngeal dysphagia is characterized by difficulty initiating a swallow, transferring the food bolus or liquid into the esophagus, and/or the association of coughing and choking during attempted meal consumption.
Many disorders cause oropharyngeal dysphagia (see below from UpToDate 2017). Generally, these include neuromuscular diseases, systemic diseases, and mechanical obstruction. Common symptoms in oropharyngeal swallowing disorders include recurrent bouts of aspiration pneumonia from inadequate airway protection, hoarseness, and nasal regurgitation.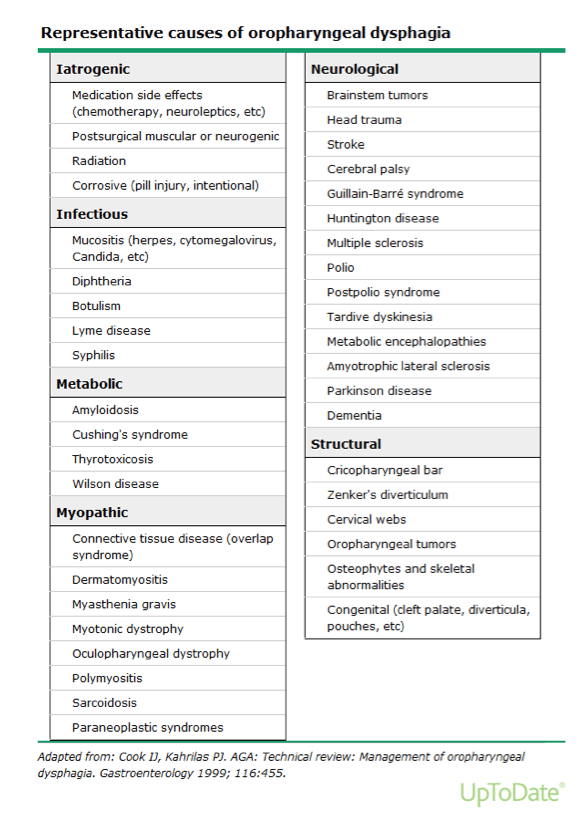 The primary treatment of oropharyngeal dysphagia is swallowing rehabilitation by a swallowing professional, a speech pathologist. Patients who have oropharyngeal dysphagia due to an anatomical abnormality, such as a Zenker diverticulum usually require endoscopic or surgical intervention.
Esophageal dysphagia is characterized by the onset of symptoms after the initiation of a swallow. The normal function of the esophagus is to transfer food and liquid. Esophageal dysphagia can be caused by several diseases (see below from UpToDate 2017) but is most often related to a mechanical obstruction. Esophageal dysphagia caused by a motility disorder is commonly characterized by dysphagia with both solids and liquids. Dysphagia associated with only solid foods is more likely due to a mechanical obstruction, although a mechanical obstruction may progress to the extent that dysphagia is associated with both solids and liquids.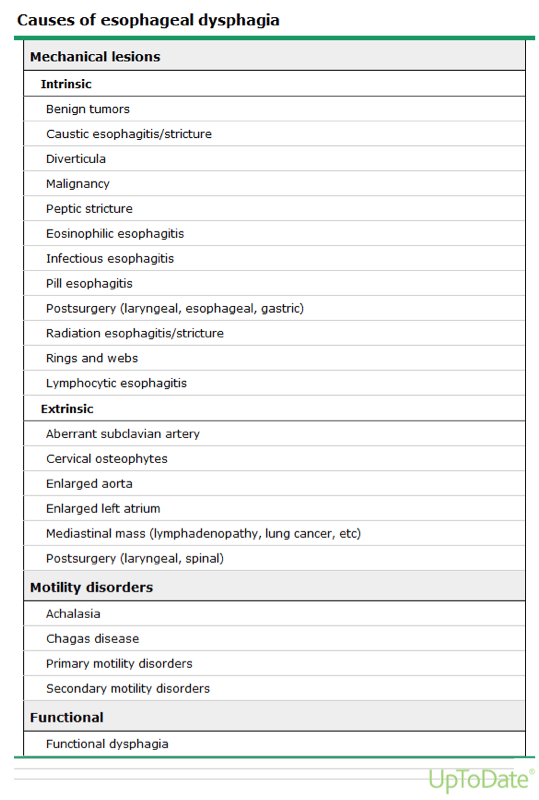 Esophageal dysphagia is an alarm symptom and warrants consultation with a Gastroenterologist and subsequent investigation with an upper gastrointestinal endoscopy and possible esophageal manometry (motility test). The goal of testing is to identify structural or mucosal abnormalities that require intervention, to detect underlying systemic disease, and to define functional disorders. The association of liquid dysphagia merits manometry evaluation.
Broadly speaking, esophageal motility disorders are classified into achalasia and related disorders (eg, diffuse esophageal spasm) and nonspecific disorders (eg, jackhammer esophagus). Achalasia is the loss of peristalsis of the esophageal body and failure of relaxation of the lower esophageal sphincter. Achalasia is the best established of the motility disorders, with defined and effective treatments. Most other esophageal motility disorders have questionable associations with clinical symptoms and few effective treatment options.
If you experience frequent choking or have difficulty swallowing, contact our office for evaluation of your symptoms by any of our board-certified gastroenterologists.