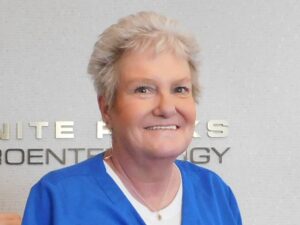 I can now say I am a two-time cancer survivor, but it didn't have to get this far! In summer of 2016 I noticed a change in my bowel habits and was having abdominal pain. I checked in with Dr. Barnett, but I was not honest with him about my symptoms and I did not have a colonoscopy done at that time of this appointment. I waited an entire year to finally see him again, as I was unable to ignore my symptoms any longer.
After an examination, he said my abdomen was full of tumors and he scheduled a CT scan the next morning. Later than morning, he let me know I had metastasized cancer and he had made an appointment for me with a surgeon on Friday and I was scheduled for surgery on Monday. I was devastated. I saw the surgeon who was upfront with me and said, "there are two outcomes here. We do nothing and you will die. If it's a reoccurrence of breast cancer, there is nothing I can do. If it's a different type of cancer, and I can remove it, I will do everything I can to remove all of it."
I was scared to death as I went into surgery unsure of my situation. The surgeon found 30 lbs of a very rare "tubular" cancer out of my abdomen. Next, I had very strong chemotherapy to prevent any further occurrence. It was miserable, but thanks to the support of family, friends and my team at work I knew I would beat it!
Now, 11 months later, I am back at work helping other people get in for their procedures. I have worked here more than 16 years, scheduling patients for their colonoscopy and other procedures. I call people who are past due and I admit, I am pretty insistent that they schedule their screening because of my past history. I KNEW better than to let it go and ignore my symptoms. I had cancer for several years and didn't know it.
I am now due for my 5th colonoscopy and I am dedicated to staying on top of my own health and persuading our patients do the same. I have lost 30 inches of my intestines and my digestive system has changed so I take probiotics and fiber to help me.
I was lucky. If I had ignored it any longer I may not be here at all. I can't stress enough how important this type of preventive medicine is. Prevention is the key.
I just had my annual colonoscopy February of 2019 and, sure enough, I had precancerous polyps which Dr. Barnett removed. You better believe I won't delay any of my tests moving forward. It just shows how vigilant you must be in your own health care.
Be your own advocate. Don't put yourself in the position to pay the ultimate price by ignoring important messages from your body, and don't assume because you feel alright that you don't need preventative screenings. If you're 50 or over, or have a family history, don't wait! Get it done!