Gluten-Free New Year's Eve Recipes
Whether you're hosting a big New Year's Eve party or just staying at home celebrating the New Year with your family and a few close friends, you're going to need some delicious party snacks.
If you are a gluten-free household or have gluten-free guests, you'll want to be sure the munchies are friendly for everyone to eat. Here are some mouthwatering New Year's Eve recipes for your party.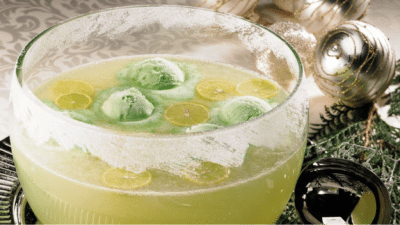 Gluten-Free Frosty Citrus Punch
Ingredients:
2 cans (6 ounces each) frozen limeade or lemonade concentrate, thawed
3 cups cold water
2 cans (12 ounces each) lemon-lime soda pop (3 cups), chilled
½ pint lime or lemon sherbet (1 cup), softened
Directions:
Mix limeade concentrate and water in large pitcher. Just before serving, stir in soda pop. Pour into punch bowl. Float scoops of sherbet on top.
Source: bettycrocker.com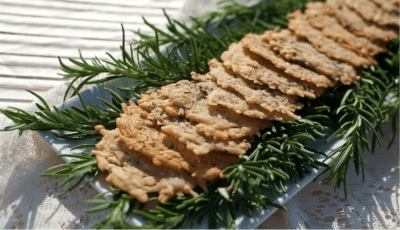 Italian Parmesan Crisps
12 crisps
Ingredients:
1 cup freshly shredded Parmesan cheese (use the larger side of the box grater)
1 tablespoon white rice flour
1 teaspoon dried Italian seasoning
½ teaspoon black pepper
Directions
Preheat the oven to 350 degrees. Line 2 baking sheets with parchment paper and set aside.
Combine cheese, white rice flour, Italian seasoning and black pepper together in a medium bowl. Mix well.
Use a tablespoon measure to spoon the cheese mixture onto the prepared baking sheet. Use the back of the spoon to carefully spread the mixture to form a 2-2 ½ inch round disk. Toss mixture between each scoop.
Bake 12-14 minutes or until golden brown. Let crisps cool in the pan for 5 minutes before using a thin metal spatula to transfer to a cooling rack. Cool completely before serving. Keep in an airtight container for up to 2-3 days.
Baking time: 12 to 14 minutes. Cooling time: 5 minutes.
Source: LaurenMarieGlutenFree.com


Gluten-Free, Dairy-Free Swedish Meatballs
Ingredients:
For the cashew "sour cream":
½ c cashews
Juice from 1 lemon
2 c beef stock
8 ounces crimini mushrooms, cooked and roughly chopped (I simply threw the mushrooms in the microwave with a touch of water – you could also sauté them in a bit of oil.)
2 t nutritional yeast flakes
1 T onion powder
2 T arrowroot powder
For the meatballs:
2 lbs. lean ground beef, venison, elk, or your meat of choice
1/3 c almond flour
1 egg
1 T flaxseed meal
1 t allspice
1/8 t cardamom
1 T onion powder
1 t salt
1 t ground black pepper
For the rest:
1 T ghee (or grapeseed oil – ghee is casein-free, but if you strictly avoid dairy, another oil will be a fine substitute)
Salt and pepper to taste
1/8 t ground nutmeg
¼ c chopped fresh parsley
Directions:
Soak cashews in enough water to cover overnight or around 8 hours. Drain and place in a blender. Add lemon juice and start blender to puree cashews. Gradually add about ¼ cup of the beef stock and continue to blend until consistency is about that of thick sour cream. (Stop to scrape down sides of blender as necessary.) Add mushroom, nutritional yeast flakes, and onion powder and blend again until smooth. Add the rest of the stock and the arrowroot starch and blend until combined. Set aside.
Heat oven to 375 degrees. Line a rimmed baking sheet with parchment paper.
Combine ground beef, almond flour, egg, flaxseed, allspice, cardamom, onion powder, salt and pepper in a large bowl. Mix with your hands until well-combined. If desired, check seasoning by making a tiny meatball and cooking on a skillet – taste and adjust seasoning as needed. Use a tablespoon to scoop out meat and form into meatballs with your hands. Place on a baking sheet. You should get around 50 meatballs.
Bake meatballs for 20 minutes or until cooked through.
Meanwhile, heat ghee or oil in a large skillet over medium heat. Add the sauce from the blender and cook, whisking, until thick. Lower heat to low, and adjust salt and pepper seasoning to taste. When meatballs are finished, add to sauce and stir to coat. If sauce is too thick, add additional stock and stir in as needed.
Once everything is thoroughly heated, sprinkle nutmeg over and garnish with parsley.
Serve over gluten-free pasta, or even place in a slow cooker on the "warm" setting, with toothpicks for cocktail party serving.
Source: www.carascravings.com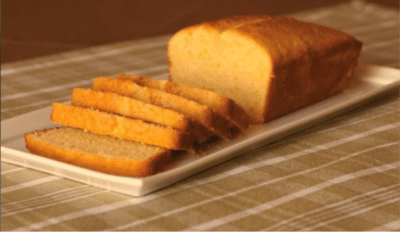 Golden-Corn Pound Cake
Ingredients:
¾ cup (3 ounces) whole grain, stone-ground corn flour (not cornmeal)
½ cup (2½ ounces) potato starch
¼ cup (1¼ ounces) tapioca starch
½ teaspoon xanthan gum
¼ teaspoon fine sea salt
2 teaspoons baking powder
1 stick (4 ounces) unsalted butter, softened, plus extra for pan
¾ cup (5½ ounces) white sugar
2 large eggs
¼ teaspoon pure orange oil, such as Boyajian, optional
2 teaspoons vanilla extract
Zest of 1 small orange
½ cup (4 ounces) milk (cow, soy or almond)
Directions:
Heat the oven to 350° F. Grease the short sides of a standard metal loaf pan (4½ x 8½ inches) with butter. Line the long sides and base with a sheet of parchment paper.
Combine the corn flour, potato starch, tapioca starch, xanthan gum, salt and baking powder and set aside.
Place the butter in a large mixing bowl. Using a hand-held electric mixer, beat at medium speed until creamy. Beat in the sugar little by little. Quickly beat in the eggs one at a time. Add the orange oil if using (it adds extra aroma and flavor) and the vanilla. Zest the orange right over the bowl. (Reserve the fruit for another use.)
Add one-third of the corn flour mixture at a time to the butter sugar mixture, alternating with the milk, beating at low speed to mix. Using a rubber spatula, transfer to the prepared pan, heaping the batter up a little at the corners and forming a ½-inch trench down the center to minimize splitting. Bake for 50 minutes, until an inserted toothpick emerges clean.
Baking time: 50 minutes.
Source: GlutenFreeExpert.com