Hepatitis C is a virus which may lead to cirrhosis and liver cancer if left untreated.
It is the leading reason for liver transplantation in the United States.
There are 3.2 million people in the U.S. infected with this virus, and 50% of those people do not even know they have it.
Most of the time, people with Hepatitis C have no symptoms.  Symptoms which sometimes occur include: fatigue, nausea, or a poor appetite.
WHO SHOULD BE TESTED?
The CDC has recommended that all adults born between 1945 and 1965 be tested.
Anyone who has ever used IV drugs should be tested.  Even if it was just one time many years ago.
Anyone who received a blood transfusion before 1992 should be tested.
Other risks factors include: a prior needle-stick injury, a sexual contact with someone known to have the virus, HIV-infected individuals, dialysis patients, and children of mothers known to have Hepatitis C.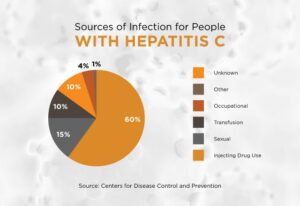 HOW DO YOU TEST FOR HEPATITIS C?
A simple blood test (antibody test) is the best way to test for this virus.  And it is extremely important to know if you have it, since there are now treatments available that can cure Hepatitis C more than 90% of the time with minimal side effects.
Call and schedule an appointment today with Granite Peaks to have this simple blood test performed — a blood test that could potentially save your life.
For further information:
health.utah.gov/epi/diseases/hepatitisC/